Standards & Privileges Committee
Show me:
Conduct of Ed Balls and Yvette Cooper
HC 1044, Fourteenth Report of Session 2007-08 - Report and Appendices, Together with Formal Minutes
Author:

House of Commons - Committee on Standards and Privileges

Publisher:

TSO (The Stationery Office)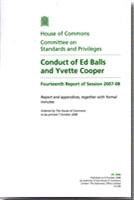 Add to Basket
This report from the Committee on Standards and Privileges examines a complaint made against Ed Balls and Yvette Cooper that they may have incorrectly identified their home for the purpose of claims against the Additional Costs Allowance for the cost of their second home.
They had claimed their main home to be in Castleford when it appeared that their children went to school in London and that the main home designation had changed from London to Yorkshire in the past few years. The report by the Parliamentary Commissioner for Standards is reproduced in an appendix. It dismisses the complaint, finding that the two MPs made reasonable decisions on the basis of their own circumstances in declaring their property in Castleford to be their main home.
The Commissioner, though, draws attention to the wider issue raised by this case. The issue turns on the interpretation of the rules in the Green Book on Parliamentary Salaries, Allowances and Pensions on means of identifying the main home, and the Commissioner endorses the principle that a main home should normally be where more nights are spent than in any other residence. There are circumstances where this normal test is not appropriate, and the Commissioner's observations on these matters will be addressed by the Committee in a later report.
Find similar publications here: