Standards & Privileges Committee
Show me:
Conduct of Sir Nicholas and Lady Winterton
HC 744, Twelfth Report of Session 2007-08 – Report and Appendices, Together with Formal Minutes
Author:

House of Commons – Committee on Standards and Privileges

Publisher:

TSO (The Stationery Office)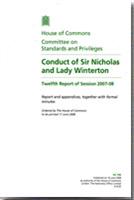 Add to Basket
This report from the Committee on Standards and Privileges examines a complaint made against Sir Nicholas and Lady Ann Winterton, Members of Parliament for Macclesfield and Congleton respectively. The complaint from a Mr Gary Poole and Mr Michael Barnbrook related to the MPs respective Additional Costs Allowances (ACAs) on the rental of a property in London.
The flat in question was purchased on a mortgage in the early 1990s and has been occupied as a second home. Mortgage interest was originally claimed against the ACA but subsequently the mortgage was paid off from the Winterton's own resources.
The flat was then put into a trust, of which they are the trustees and their three children, beneficiaries. The trust was established in 2002 and, since that time, the Wintertons have continued to occupy the property as tenants of this trust, paying market rent with each charging half of the rent against their respective ACAs.
The Committee has looked at whether this arrangement of reimbursement was permissible under ACA rules. The Commissioner has pointed out that the arrangement entered into by the Wintertons was an unusual use of the ACA and benefited the family and their estate and assisted their personal inheritance tax planning.
Conclusions and recommendations include:
It would have been prudent of the Wintertons to have checked that charging rent to the ACA was consistent with the rules.

It was unfortunate that there was no recognition that the Winterton's arrangements needed changing after 2003 and that they have been in breach of the rules applying to the ACA since July 2006.

It was inappropriate that the rent was reimbursed through the ACA given the Wintertons' were trustees and their children beneficiaries, which the rules explicitly prohibited.

The Committee agrees with the Commissioner that the complaints should be upheld and recommends that no further claims should be paid against the ACA in relation to the rent payable in respect of their current property from 1 September 2008.
Find similar publications here: