Standards & Privileges Committee
Show me:
Conduct of Mr George Osborne
HC 560, Tenth Report of Session 2007-08 – Report and Appendix, Together with Formal Minutes
Author:

House of Commons – Committee on Standards and Privileges

Publisher:

TSO (The Stationery Office)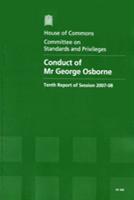 Add to Basket
The Parliamentary Commissioner for Standards submitted a memorandum on his investigation of a complaint that Mr. George Osborne failed to register certain donations in the Register of Members' Interests. These donations were made to the Conservative Party and used by the Party to support the cost of running his office as Shadow Chancellor of the Exchequer.
It became clear that many other members of the Shadow Cabinet used funds in this way, so this complaint has ramifications well beyond one entry in the Register. Mr. Osborne believes that financial support received through a party to support work as a Shadow Minister does not constitute 'financial or material support as a Member of Parliament'.
The Commissioner finds that there is no logical reason to differentiate between the different capacities in which MPs receive financial support and upholds the complaint. He does not, however, believe that Mr. Osborne should be criticised as the area was in need of clarification.
The Commissioner makes five recommendations, which should regularise the position, and members of the Shadow Cabinet are given four weeks from publication of this report to amend their Register entries. The Committee agrees with the Commissioner's findings and recommendations.
Find similar publications here: