Standards & Privileges Committee
Show me:
Conduct of Mr Peter Hain
HC 324, Fifth Report of Session 2007-08 – Report with Appendix, Together with Formal Minutes
Author:

House of Commons – Committee on Standards and Privileges

Publisher:

TSO (The Stationery Office)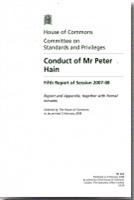 Add to Basket
The Parliamentary Commissioner for Standards submitted a memorandum of progress to date of his investigation of complaints that the Rt Hon Peter Hain MP, the Member for Neath, failed to register in the Register of Members' Interests, within the required time limit, all donations he received in his Deputy Leadership campaign.
This report from Committee of Standards and Privileges sets out the current state of the conduct investigation. Following the Electoral Commission's referral of Mr Hain's failure to report certain donations to them to the Metropolitan Police, any further investigation will be suspended for the duration of the police investigation.
Find similar publications here: