Standards & Privileges Committee
Show me:
Respect Policy
HC 321, First Report of Session 2014-15 - Report, Together with Appendices and Formal Minutes Relating to the Report
Author:

House of Commons - Committee on Standards

Publisher:

TSO (The Stationery Office)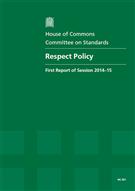 Add to Basket
In June 2011 the House of Commons Commission agreed to implement the Respect Policy, to deal with possible bullying and harassment by Members or their staff towards House of Commons staff. The report 'Respect Policy' examines the effectiveness of the policy.
Measures and policies to protect employees from bullying and harassment are a common way to ensure that employers fulfil their contractual obligations and their statutory duties to their employees, their existence does not mean that an employer has a problem.
Although well intentioned, in practice there were at least two flaws in the formal part of the Respect Policy: investigations were undertaken by a House of Commons official, who might be considered to have an interest; and Members had no right of appeal if a complaint was upheld while staff could appeal if it was dismissed.
The formal part of the procedure was therefore suspended in November 2012. In March 2014 the House of Commons Commission agreed a further draft of the revised Respect Policy and the unions considered that draft to be a basis for an effective and proportionate policy.
The Respect policy now has four stages, rather than two:
Stage one: internal resolution (issue raised and possible mediation);
Stage two: internal resolution (formal grievance meeting);
Stage three: Commissioner for Standards (consideration); and
Stage four: Commissioner for Standards (investigation and possible referral to the Committee on Standards).
The Committee is content for the House of Commons Commission to conclude an agreement with the unions based on the draft Respect Policy.
Find similar publications here: