Standards & Privileges Committee
Show me:
The House Of Commons Code Of Conduct And The Law
HC 903, Seventh Report of Session 2013-14 - Report, Together with Appendix and Formal Minutes
Author:

House of Commons - Committee on Standards

Publisher:

TSO (The Stationery Office)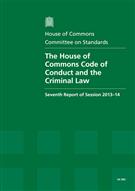 Add to Basket
The report 'The House Of Commons Code Of Conduct And The Law (HC 903)' examines the concordat on the complaints system and the criminal law. The Committee, the Parliamentary Commissioner for Standards and the Metropolitan Police have reaffirmed and redrafted the existing concordat.
The concordat is concerned with operational matters, and it would be inappropriate for it to set down the possible effect of parliamentary privilege on any future legal proceedings.
The report sets out in detail the relationship between the inquiries conducted by the Parliamentary Commissioner for Standards and the Committee and those conducted by the police, and to correct some misunderstandings of the effect of parliamentary privilege on court proceedings.
Privilege protects parliamentary proceedings and the core functions of Parliament, it does not provide a haven from the general criminal law. It is not for the Committee or the Commissioner to decide whether criminal conduct has occurred; it is for the prosecuting authorities to make that case, and for the court to decide. The Committee will not attempt to usurp the functions of the prosecuting authorities. Parliaments and Governments in other jurisdictions have been criticised for encouraging political prosecutions.
In recent decades there have been occasions when parliamentary proceedings might have cut across criminal investigations. Each case has to be considered on its own merits as the relationship between committee proceedings and criminal investigations will vary, but it is right that Parliament should exercise self restraint in considering cases where prosecutions may ensue.
Where a crime is committed within the House of Commons, this may well also constitute a contempt of Parliament.
Find similar publications here: