Scottish Affairs Committee
Show me:
The Impact of The Bedroom Tax In Scotland: Interim Report
HC 288, Fourth Report of Session 2013-14 - Report, Together with Formal Minutes, Oral and Written Evidence
Author:

House of Commons - Scottish Affairs Committee

Publisher:

TSO (The Stationery Office)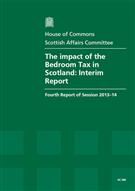 Add to Basket
In the report 'The Impact of The Bedroom Tax In Scotland: Interim Report (HC 288)', the Scottish Affairs Committee calls for the repeal of the Spare Room Subsidy in Scotland.
While this is being considered, the Committee calls on the Government to suspend application of the Bedroom Tax for all those tenants to whom a reasonable alternative offer cannot be made. There are not enough smaller houses available for tenants to transfer into, and the lack of any alternative offers will mean that tenants have no choice but to go into arrears if they cannot afford the extra costs.
Other amendments proposed for the operation of the tax include:
Exemptions for those disabled people who require a room to store or use equipment or aids;

Non application where it would be financially perverse to do so, for example where removing fixed aids and adaptations, and then reinstalling them in a smaller home, would be more expensive than the savings over two years;

All children of secondary school age should be allowed a bedroom of their own to allow quiet study; and

All disabled children, of whatever age, should have a bedroom of their own.
The Committee also calls for changes to the system of Discretionary Housing Payments (DHP), which have been designed by the Government to mitigate the worst impacts of the Bedroom Tax. There should be a standard nationwide entitlement system, across the UK as a whole, rather than the present postcode lottery. The UK and Scottish Governments should make longer term commitments to the provision of DHP in order to allow local authorities to plan and structure their budgets.
Find similar publications here: