Scottish Affairs Committee
Show me:
Power Outages And Extreme Weather Conditions In The West Of Scotland
HC 484, Eleventh Report of Session 2013-14 - Report, Together with Formal Minutes, Oral and Written Evidence
Author:

House of Commons - Scottish Affairs Committee

Publisher:

TSO (The Stationery Office)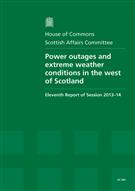 Add to Basket
The report 'Power Outages And Extreme Weather Conditions In The West Of Scotland (HC 484) colncludes that he local authority and power company response to the severe weather of 2013 in Kintyre, Arran and Wigtownshire shows that important lessons have been learned and improvements put in place.
The report's conclusions include:
emergency plans should prioritise accessing mobile phone base stations to restore lost signals;

the A83 is a vital artery for the Kintyre peninsula and the decision to upgrade it to a trunk road is an important one, as this will allow the resources of Transport Scotland to be deployed to keep it open during extreme weather conditions;

the new Hunterston-Kintyre transmission line will mean there will be two transmission lines serving the Kintyre peninsula, so the failure of one of the lines will not see Kintyre & Arran cut off from the power network; and

caring for vulnerable members of the community is another statutory responsibility of local authorities.
Local authorities have done a great deal of work to expand their databases and identify those who are in need but councils should also do more to support the community groups that are engaging local people in the process of caring for the vulnerable.
Find similar publications here: