Scottish Affairs Committee
Show me:
Zero Hours Contracts In Scotland: Interim Report
HC 654, Tenth Report of Session 2013-14 - Report, Together with Formal Minutes
Author:

House of Commons - Scottish Affairs Committee

Publisher:

TSO (The Stationery Office)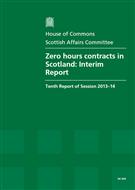 Add to Basket
Zero hours contracts and other forms of casual labour can benefit workers and employers in Scotland, but the report 'Zero Hours Contracts In Scotland: Interim Report (HC 654)'conludes that, the relationship is too often unbalanced, leaving the employer with all of the flexibility and few costs and the worker in fear of dismissal, denied access to due rights of employment and, in some cases, earning less than the minimum wage.
The Government recognises that poor practice exists and needs to be addressed but its consultation on zero hours contracts was too narrow; the Government must do more to protect workers who wish to challenge unfair, unsafe or unlawful conditions of employment.
The report makes several recommendations, including:
workers should be told from the outset of their employment what type of contract they are on and a written contract setting out the terms and conditions must follow within two months;

there should be a minimum notice period of work and workers should not be punished for turning down offers of work made within that period;

where workers arrive for work but find none available, the employer should compensate them for the inconvenience; and
travel time between appointments should be paid and pay for zero hours workers should accurately reflect the number of hours that are worked to fulfil contracted duties.

These recommendations will improve the working conditions of people on zero hours contracts but the Committee's overriding conclusion is that, in the majority of cases, zero hours contracts need not and should not be used at all.
Find similar publications here: