Scottish Affairs Committee
Show me:
The Crown Estate In Scotland: Follow Up
HC 889, Fifth Report of Session 2013-14 - Report, Together with Formal Minutes Relating to the Report
Author:

House of Commons - Scottish Affairs Committee

Publisher:

TSO (The Stationery Office)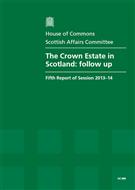 Add to Basket
The Crown Estate manages most of Scotland's foreshore and seabed and runs it for the benefit of the UK Treasury; the report 'The Crown Estate In Scotland: Follow Up (HC 889)' revisits proposals made by the Scottish Affairs Committee two years ago (see below), which recommended that these rights and interests be decentralised as far as possible.
The Government rejected the main proposals of the initial report, but agreed to set up a fund to help coastal communities.
This report states that they are even more convinced that decentralisation is essential if local communities are to benefit from the development of these assets. The Committee remains convinced that the transfer of these assets from an over-centralised London, to an over-centralising Edinburgh would not be sufficient.
In conclusion, it is recommended that local people and local authorities should be given primacy in determining how these assets should be developed, and how financial benefits should be distributed.
Find similar publications here: