Scottish Affairs Committee
Show me:
The Referendum On Separation For Scotland: A Defence Force For Scotland - A Conspiracy Of Optimism?
HC 842, Third Report of Session 2013-14 - Report, Together with Formal Minutes
Author:

House of Commons - Scottish Affairs Committee

Publisher:

TSO (The Stationery Office)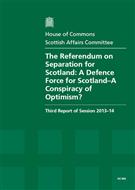 Add to Basket
'The Referendum On Separation For Scotland: A Defence Force For Scotland - A Conspiracy Of Optimism? (HC 842)' examines the Scottish Government's White Paper on the potential separation of Scotland from the United Kingdom.
The report concludes that the Scottish Government must make absolutely clear the details of both its foreign and defence policies, as much of what has been suggested up to now suffers from a conspiracy of optimism.
The most explicit pledges made to date include:
(i) That the whole cost of security and defence will be no more than £2.5 billion;
(ii) That personnel in the armed services will total 15,000 full time and 5,000 reserve personnel; and
(iii) that the defence force will include current Scottish raised and restored UK regiments.
These pledges leave several questions unanswered, including:
Will we then have a defence force which is army heavy?

Will we have an army which is infantry heavy?

Will historic regiments be redesignated as platoons, reserves or non-infantry units?

If Faslane is to be kept at its existing workforce, how will people be retrained?

What costs will be incurred in the transition to the new Scottish Defence Force?

What are the implications for procurement, whether or not Scotland gets the assets it wants?

Will a separate Scotland impose unilateral nuclear disarmament on the UK?
Furthermore, membership for Scotland of NATO will require not only the unanimous agreement of all the existing NATO members, but also the resolution of any disputes with the UK. The Scottish Government must spell out what wages and conditions it would propose to offer to compensate those who would leave behind participation in world class armed services.
The people of Scotland are entitled to expect that those who propose drastic change can explain what the consequences would be.
Find similar publications here: