Science & Technology Committee
Show me:
Current And Future Uses Of Biometric Data And Technologies
HC 734, Sixth Report of Session 2014-15 - Report, Together with the Formal Minutes Relating to the Report
Author:

House of Commons - Science and Technology Committee

Publisher:

TSO (The Stationery Office)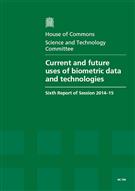 Add to Basket
The report 'Current And Future Uses Of Biometric Data And Technologies (HC 734)' examines ways in which the Government may use biometric data in future.
In its broadest sense, biometrics is the measurement and analysis of a biological characteristic (fingerprints, iris patterns, retinas, face or hand geometry) or a behavioural characteristic (voice, gait or signature). Biometric technologies use these characteristics to identify individuals automatically.
Unlike identity documents or passwords, biometrics cannot be lost or forgotten since they are a part of the user and are always present at the time of identification. They are also difficult, though not impossible, to forge or share.
Three future trends in the application of biometrics are identified in the report:
(i) The growth of unsupervised biometric systems, accessed via mobile devices, which verify identity;
(ii) the proliferation of "second-generation" biometric technologies that can authenticate individuals covertly; and
(iii) and the linking of biometric data with other types of big data as part of efforts to profile individuals.
Each of these trends introduces risks and benefits to individuals, to the state and to society as a whole. They also raise important ethical and legal questions relating to privacy and autonomy.
The Committee is not convinced that the Government has addressed these questions, nor are they satisfied that it has looked ahead and considered how the risks and benefits of biometrics will be managed and communicated to the public.
Find similar publications here: