Science & Technology Committee
Show me:
After The Storm? UK Blood Safety And The Risk Of Variant Creutzfeldt-Jakob Disease
HC 327, Second Report of Session 2014-15 - Report, Together with Formal Minutes Relating to the Report
Author:

House of Commons - Science and Technology Committee

Publisher:

TSO (The Stationery Office)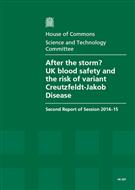 Add to Basket
According to research, around one in 2,000 of us could be unknowingly carrying the infectious prions responsible for Variant CJD; the report 'After The Storm? UK Blood Safety And The Risk Of Variant Creutzfeldt-Jakob Disease (HC 327)' investigates the Government's response to the worrying prospect that these prions could be transmitted to others via blood transfusions and other medical procedures.
Recent Government policy seems to have been driven less by precaution than by economic prudence and a hope that the storm has now passed; 43 incidents occurred between January 2010 and March 2013 in which surgical patients may have been exposed to CJD as a result of infection control guidance not being properly followed.
Ministers must work with the National Institute of Health and Care Excellence (NICE) and the Advisory Committee on Dangerous Pathogens - to assess the extent to which precautions are being taken in hospitals and come up with a plan to improve implementation.
The Committee also recommends greater support for technologies potentially capable of more effectively decontaminating surgical instruments. Key steps would be for the Government to reduce uncertainty by supporting relevant research, for example by using the prototype blood test developed by the Medical Research Council (MRC) prion unit - in a large-scale study to better understand the rate of 'silent infection'. In the vast majority of cases the benefits of receiving a transfusion will far outweigh the risk of acquiring a transfusion-transmitted infection.
However, the Committee is warning against complacency and is urging UK Blood Services to remain vigilant. The report recommends that the Government commission a full assessment of the risks currently faced.
Find similar publications here: