Science & Technology Committee
Show me:
Science in the Met Office
HC 1538, Thirteenth Report of Session 2010-12 - Report, Together with Formal Minutes, Oral and Written Evidence
Author:

House of Commons - Science and Technology Committee

Publisher:

TSO (The Stationery Office)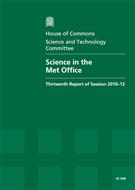 Add to Basket
'Science in the Met Office (HC 1538)' examines the current operations of the Met Office as a Trading Fund within the Department of Business, Innovation and Skills (BIS), and welcomes the potential opportunities to develop its commercial activities.
The Government has no plans to privatise the Met Office, which would risk the strong partnerships it has built with international partners and the sharing of crucial meteorological data.
The Met Office must maintain its core public services, but the Government should also provide clearly defined funding commitments to enable longer-term scientific and operational developments to take place.
The Committee welcomes the Government's initiative of Public Data Corporation. Some concern though is expressed that scientific advances in weather forecasting and the associated public benefits (particularly in regard to severe weather warnings) which are available, are being held back by insufficient supercomputing capacity.
The Met Office should attempt to streamline the scrutiny of science under one committee and develop a strong customer relationship with key Government departments.
Find similar publications here: