Regulatory Reform Committee
Show me:
Proposal for the Regulatory Reform (Local Commissioner for Wales) Order 2004 sixth report of session 2003-04 report, together with formal minutes and written evidence
House of Commons papers 2003-04 553
Corporate Author:

Great Britain Parliament House of Commons Regulatory Reform Committee

Author:

Pike Peter chairman

Publisher:

TSO (The Stationery Office)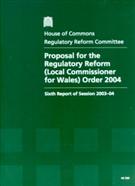 Add to Basket
The purpose of the proposal is to remove the present restriction in legislation which prevents the Welsh Administration Ombudsman, although ex officio a member of the Commission for Local Administration in Wales ("the CLAW"), from undertaking investigations as a Local Commissioner of the CLAW. This would enable the same individual to hold three investigatory ombudsman posts in Wales, namely the posts of Welsh Administration Ombudsman, Health Service Commissioner for Wales and Local Commissioner of the CLAW. The Wales Office, which is promoting the proposal, indicates that this is an interim step towards the policy goal of establishing a unified Welsh Ombudsman's office, able to investigate complaints across the whole range of public services in Wales. The Committee will make its formal report to the House on the proposal later in the 60-day period for Parliamentary consideration. On the evidence presently before it, the Committee considers that the proposal should be amended to provide that the person undertaking investigations as the Local Commissioner of the CLAW should continue to be appointed following statutory consultation with local authorities in Wales.
Find similar publications here: