Regulatory Reform Committee
Show me:
Proposal for the Regulatory Reform (Patents) Order 2004 second report of session 2003-04 report, together with formal minutes and written evidence
House of Commons papers 2003-04 337
Corporate Author:

Great Britain Parliament House of Commons Regulatory Reform Committee

Author:

Pike Peter chairman

Publisher:

TSO (The Stationery Office)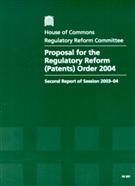 Add to Basket
The Committee's report examines the proposed regulatory reform order which seeks to amend the Patents Act 1977, in order to make UK patent law compliant with the provisions of the World Intellectual Property Organisation (WIPO) Patent Law Treaty (PLT) of 2000. The UK is a signatory to the PLT and intends in due course to ratify it, once the necessary changes to domestic legislation have been made. The Committee agrees with most of the proposed amendments in order to ensure that UK patent law jurisdiction is harmonised with international standards. However, it recommends three changes to the proposals, regarding disclosure concerns relating to national security and public safety issues, and the lack of an administrative procedure for the resuscitation of applications by order of the comptroller.
Find similar publications here: