Public Accounts Committee
Show me:
The Failure of the FiReControl Project
HC 1397, Fiftieth Report of Session 2010-12 - Report, Together with Formal Minutes, Oral and Written Evidence
Author:

House of Commons - Committee of Public Accounts

Publisher:

TSO (The Stationery Office)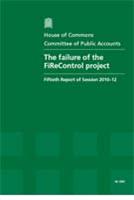 Add to Basket
The FiReControl project was launched in 2004, but following a series of delays and difficulties, was terminated in December 2010 with none of the original objectives achieved and a minimum of £469 million being wasted, reports 'The Failure of the FiReControl Project (HC 1397)'.
FiReControl was an ambitious project with the objectives of improving national resilience, efficiency and technology by replacing the control room functions of 46 local Fire and Rescue Services in England with a network of nine purpose-built regional control centres using a national computer system.
The Department attempted, without sufficient mandatory powers, to impose a single, national approach on locally accountable Fire and Rescue Services who were reluctant to change the way they operated.
There were no basic project approval checks and balances - decisions were taken before a business case, project plan or procurement strategy had been developed and tested. The result was hugely unrealistic through forecast costs and savings, naïve over-optimism on the deliverability of the IT solution and under-appreciation or mitigation of the risks.
Fundamentals of project management were absent: the centres were constructed and completed whilst there was considerable delay in even awarding the IT contract, let alone developing the essential IT infrastructure. There was a high turnover of senior managers although none have been held accountable for the failure.
The IT contract went to a company with no direct experience of supplying the emergency services.
£84.8 million is now earmarked to meet the project's original objectives, to improve resilience, efficiency and interoperability within the Fire and Rescue Service but there is no certainty this will provide value for money.
Find similar publications here: