Public Accounts Committee
Show me:
Care leavers' transition to adulthood: fifth report of session 2015-16 report, together with formal minutes relating to the report
House of Commons papers 411 2015-16
Corporate Author:

Great Britain Parliament House of Commons Committee of Public Accounts

Author:

Meg Hillier (chair)

Publisher:

TSO (The Stationery Office)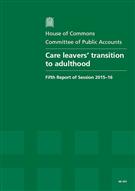 Add to Basket
There has been a systemic failing in the provision of support to vulnerable care leavers. The quality and cost of support that local authorities give to care leavers varies unacceptably across the country and outcomes for young people leaving care are poor and worsening. Ofsted's inspections have found that two-thirds of local authorities' care leaver services are inadequate or require improvement and there is no clear relationship between the amount spent and the quality of service. The scale of variability in the quality and cost of support, and a lack of understanding of what causes this, show that this is a systemic issue, rather than a problem in just a few local authorities. We welcome the Government's intent to improve the lives of care leavers, signalled by the launch of the Care Leaver Strategy in 2013, and the fact that more good practice in supporting care leavers is now emerging. But central and local government must both take more responsibility for improving outcomes and the quality of support.
Find similar publications here: