Public Accounts Committee
Show me:
Confiscation Orders
HC 942, Forty-ninth Report of Session 2013-14 - Report, Together with Formal Minutes, Oral and Written Evidence
Author:

House of Commons - Committee of Public Accounts

Publisher:

TSO (The Stationery Office)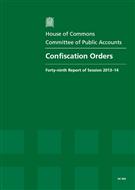 Add to Basket
'Confiscation Orders (HC 942)' reports that many criminals are choosing to extend their prison sentences rather than pay confiscation orders.
The National Fraud Authority estimates that £52 billion was lost through fraud in 2012-13. £490 million is owed by criminals who have served or are serving more time in prison for non payment of confiscation orders; this suggests that sentences for non payment provide little deterrence, and sanctions need to be tightened.
The Committee is also concerned that poor implementation has led to not enough confiscation orders being made, and that not enough is being done to enforce them once they have been made.
The report finds that:
in 2012-13, the authorities collected only 26p in every £100 of criminal proceeds generated in that year through confiscation orders;

very few confiscation orders are sought and made; and

government departments spent £100 million administering confiscation orders, yet confiscated just £133 million.
Assets held by major criminals have been frozen too late, allowing them to hide valuable assets by putting them in the hands of spouses, using complex financial instruments or buying houses and expensive cars and hiding them overseas.
Lesser criminals are pursued too often while major criminals get away; 90% of orders of less than £1,000 are enforced, whereas only 18% of orders for over £1 million are enforced.
Find similar publications here: