Public Accounts Committee
Show me:
Council Tax Support
HC 943, Forty-Eighth Report of Session 2013-14 - Report, Together with Formal Minutes, Oral and Written Evidence
Author:

House of Commons - Committee of Public Accounts

Publisher:

TSO (The Stationery Office)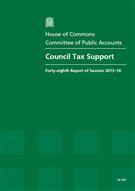 Add to Basket
The report 'Council Tax Support (HC 943)' examines the results of the transfer of responsibility for Council Tax support from the Department for Communities and Local Government (DCLG) to 326 local authorities, which began in April 2013.
The policy had four main objectives:
(i) To transfer the system to local control;
(ii) To make savings;
(iii) To protect vulnerable people; and
(iv) To support work incentives for claimants created by the Government's wider welfare reforms.
Each local authority now has a duty to design and implement a local Council Tax support scheme.
Alongside the transfer of responsibility, the DCLG reduced funding to local authorities for Council Tax support by 10% in 2013-14, delivering a £414 million saving for central government. Local authorities have differed in how much of the reduced funding has been passed on to claimants in a reduction to their entitlement to support. Contrary to the government's intentions, many local authority schemes have not protected vulnerable groups other than pensioners and war pensioners, and some have weakened work incentives, undermining the government's determination to reform welfare to make work pay.
The report makes a number of recommendations covering:
Assessment of the scheme;

Demand for council services; and

Impact on vulnerable groups.
The DCLG does not yet fully understand the combined impact of the new Council Tax support schemes and other welfare changes on the demand for local services and the funding of local authorities. A coherent set of guidelines should be created to set out the extent of local authorities' discretions and obligations.
The review of Council Tax support planned by the DCLG is an opportunity for it to reassess the programme and ensure it meets its objectives.
Find similar publications here: