Public Accounts Committee
Show me:
Emergency Admissions To Hospital
HC 885, Forty-sixth Report of Session 2013-14 - Report, Together with Formal Minutes, Oral and Written Evidence
Author:

House of Commons - Committee of Public Accounts

Publisher:

TSO (The Stationery Office)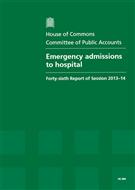 Add to Basket
Nearly one fifth of consultant posts in emergency departments were either vacant or filled by locums in 2012; 'Emergency Admissions To Hospital (HC 885)' concludes that neither the Department of Health, nor NHS England have a clear strategy to tackle the shortage of Accident and Emergency (A&E) consultants, and there is too much reliance on temporary staff to fill gaps.
The Committee raises the possibility of paying consultants more to work at struggling hospitals. Greater use in A&E of consultants from other departments could also be made, or a mandate that all trainee consultants spend time in A&E, or make A&E positions more attractive through improved terms and conditions.
The slow introduction of round-the-clock consultant cover in hospitals, which will not be in place before the end of 2016-17, is also having a negative impact. More people die as a result of being admitted at the weekend when fewer consultants are in A&E. Changing this relies on the British Medical Association and NHS Employers negotiating a more flexible consultants' contract, and neither the Department nor NHS England has direct control over the timescale or details of these negotiations.
Hospitals, GPs and community health services all have a role to play in reducing emergency admissions, but financial incentives to make this happen are not in place. While hospitals get no money if patients are readmitted within 30 days, there are no financial incentives for community and social care services to reduce emergency admissions.
Both the Department of Health and NHS England struggled to explain to the Committee who is ultimately accountable for the efficient delivery of local A&E services.
Find similar publications here: