Public Accounts Committee
Show me:
HMRC: Customer Services
HC 869, Thrity-sixth Report of Session 2012-13 - Report, Together with Formal Minutes, Oral and Written Evidence
Author:

House of Commons - Committee of Public Accounts

Publisher:

TSO (The Stationery Office)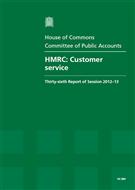 Add to Basket
During 2011-12, HM Revenue and Customs (HMRC) failed to answer 20 million phone calls at a cost of £136 million to the callers; the report 'HMRC: Customer Services (HC 869)' concludes that officials are beginning to realise that good customer service lies at the heart of any strategy to maximise revenues while cutting costs.
However, HMRC's new target of answering 80% of calls within five minutes is still woefully short of the industry standard of answering 80% of calls within 20 seconds. Just how the Department is going to improve standards of customer service, given the prospect of its having fewer staff and receiving a higher volume of calls, is open to question.
HMRC plans to cut the number of customer-facing staff by a third by 2015. At the same time, the stresses associated with introducing the Real Time Information System, Universal Credit and changes to Child Benefit are likely to drive up the number of phone calls to the department.
HMRC is also to close all of its 281 enquiry centres which give face-to-face advice to customers. HMRC considers that it will be able to improve service standards by using its staff more flexibly. The Committeeadvises that it may need to put in additional resources to avoid the kind of plummeting performance witnessed in the past.
Other planned changes include the resolution of more queries first time, and a call-back service where this is not possible. Callers will also no longer be forced to use the more expensive 0845 numbers.
Find similar publications here: