Public Accounts Committee
Show me:
Preventing Fraud in Contracted Employment Programmes
HC 103, Fifteenth Report of Session 2012-13 - Report, Together with Formal Minutes, Oral and Written Evidence
Author:

House of Commons - Committee of Public Accounts

Publisher:

TSO (The Stationery Office)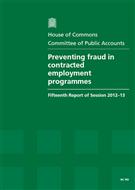 Add to Basket
The Department for Work and Pensions (DWP) spends around £900 million annually on programmes to help unemployed people find and sustain work through its contracts with a range of companies and charities; 'Preventing Fraud in Contracted Employment Programmes (HC 103)' examines the allegations of potential fraud and poor service following a hearing on the Work Programme in February 2012.
The controls against financial fraud for the Work Programme are a significant improvement on previous schemes, but allegations that some providers give a poor service have already begun.
The standards a company must meet to be fit and proper for contract have not been defined; the 'black box' approach to contracting for the Work Programme allows providers to innovate without sufficient auditing, and there is no mechanism in the contract for improving service standards over time.
The DWP lacks sufficient information on the nature and number of complaints made directly to contractors to identify trends and learn lessons; and there is also no obvious process by which participants, contractors' employees or MPs can raise issues of concern relating to fraud and poor service.
The Committee strongly advise the DWP to take all reasonable and affordable steps to drive out fraud.
Find similar publications here: