Public Accounts Committee
Show me:
Spending Reduction in the Foreign and Commonwealth Office
HC 1284, Forty-eighth Report of Session 2010-12 - Report, Together with Formal Minutes, Oral and Written Evidence
Author:

House of Commons - Committee of Public Accounts

Publisher:

TSO (The Stationery Office)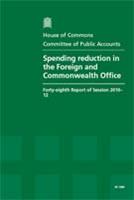 Add to Basket
The report 'Spending Reduction in the Foreign and Commonwealth Office (HC 1284)' identifies that around half of the Foreign and Commonwealth Office's (FCO) budget is spent in foreign currencies. In 2008, the Treasury removed the protection it had previously provided to the Department against exchange rate fluctuations. The FCO did not have the expertise or experience to effectively manage the risk of a fall in exchange rates, and that the Treasury imposed poor value for money conditions on forward purchasing foreign currency.
As a result of a decline in the value of sterling, in September 2009 the FCO faced an overspend of £91 million on its 2009-10 budget (£72 million centrally and £18.8 million overseas), out of its total budget of £1.6 billion. It made drastic cuts to reduce this overspend. The FCO did well to reduce spending so quickly, which enabled it to live within its budget. However, many of the spending cuts made were short term in nature, and involved simply delaying or stopping some activities, rather than making lasting efficiency improvements. Not enough was done to monitor and measure the impact of the cuts and there is a risk that such short term cuts can lead to increased spending in the future.
The FCO needs to achieve sustainable reductions in running costs of £100 million over the next four years, and sees the overseas estate as a potential source of these efficiencies and income. But in the past, high charges have had the unintended consequence of discouraging other government departments from sharing premises.
Find similar publications here: