Public Accounts Committee
Show me:
The Sale Of Eurostar
HC 564, Sixteenth Report of Session 2015-16 - Report, Together with Formal Minutes Relating to the Report
Author:

House of Commons - Committee of Public Accounts

Publisher:

TSO (The Stationery Office)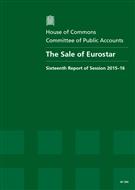 Add to Basket
In March 2015 HM Treasury agreed to sell its 40% stake in Eurostar for £585.1 million, almost double the valuations produced before the sale by both the government's project team and UBS, its financial adviser. While some of this difference may be explained by the successful sale process and favourable market conditions, the report 'The Sale Of Eurostar HC 564)' identifies this as further evidence of the government and its advisers undervaluing assets.
The Committee are also concerned about the seeming over-reliance by government on a small pool of costly advisers for asset sales. For example, UBS, the financial adviser for this transaction, was also involved in the sale of the Royal Mail and High Speed 1 (HS1). Eurostar also agreed, in a separate transaction, to redeem the government's preference share, providing a further £172 million for the taxpayer. The sale of the UK government's entire financial interest in Eurostar therefore generated proceeds of £757.1 million, significantly less than taxpayers' total financial investment in Eurostar which is estimated to have been some £3 billion.
In October 2015, some two years later than expected, the Department for Transport published an evaluation of the economic impact and regeneration benefits for HS1. We are concerned that this delay has prevented the evaluation, which shows that the costs of HS1 far outweigh its quantified benefits, from being used to aid the scrutiny of other projects such as High Speed 2. Despite the results of its own evaluation, which it described as 'world class', the Department maintains that there are further 'wider benefits' from HS1 that it cannot yet value which make the investment worthwhile.
Find similar publications here: