Public Accounts Committee
Show me:
Economic Regulation Of The Water Sector
HC 505, Fifteenth Report of session 2015-16 - Report, Together with Formal Minutes Relating to the Report
Author:

House of Commons - Committee of Public Accounts

Publisher:

TSO (The Stationery Office)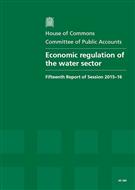 Add to Basket
The report 'Economic Regulation Of The Water Sector (HC 505)' examines the Water Services Regulation Authority's (Ofwat) approach to setting price limits for water companies in England and Wales, and concludes that it has not resulted in the best possible deal for customers.
By consistently overestimating financing costs, Ofwat has allowed companies to make windfall gains which have not been shared in a structured way to ensure customers get a fair deal.
Ofwat uses comparisons between water companies to help improve overall efficiency, but acknowledges that it should do more to benchmark companies' costs with other sectors and internationally, to ensure that the amounts customers are charged are minimised.
Ofwat should also do more to promote water trading between companies instead of developing expensive new supplies.