Public Accounts Committee
Show me:
Devolving Responsibilities To Cities In England: Wave 1 City Deals
HC 395, Seventh Report of Session 2015-16 - Report, Together with Formal Minutes Relating to the Report
Author:

House of Commons - Committee of Public Accounts

Publisher:

TSO (The Stationery Office)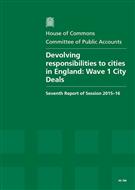 Add to Basket
'Devolving Responsibilities To Cities In England: Wave 1 City Deals (HC 395)' examines City Deals; a new way of working between central and local government. They have provided local places with the opportunity to set out their own growth priorities and present them directly to the Government. In return, the Government allocated to devolving responsibility for funding and delivery of specific programmes.
While some individual programmes in the deals have shown early signs of success, it is too early to assess the overall impact that City Deals could have on local growth. The Department for Communities and Local Government (DCLG) accepts that the failure to put in place monitoring and evaluation arrangements at the start of City Deals makes it significantly harder to assess progress and know which programmes will have the biggest impact on growth.
As the Government has set out its ambition to continue devolving responsibility for local growth to local places, the Government needs to be clear about how it determines the funding to be devolved to deliver services locally.
The DCLG must develop a consistent approach to measuring impact alongside a more robust assessment of the capacity of local areas to implement and run devolved programmes.
The Committee urges the DCLG to work with local areas to strengthen local scrutiny and accountability arrangements and to ensure public engagement both in the negotiation and implementation of future devolved initiatives.
Find similar publications here: