Public Accounts Committee
Show me:
BBC Digital Media Initiative
HC 985, Fifty-second Report of Session 2013-14 - Report, Together with Formal Minutes Relating to the Report
Author:

House of Commons - Committee of Public Accounts

Publisher:

TSO (The Stationery Office)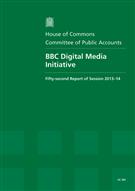 Add to Basket
The BBC's Digital Media Initiative (DMI) was a transformation programme that involved developing new technology for BBC staff to create, share and manage video and audio content and programmes from their desktops; the report 'BBC Digital Media Initiative (HC 985)' concludes that DMI was a complete failure.
Siemens were contracted to build the DMI system, but the contract was terminated and brought in-house in 2009; but the BBC failed to complete the DMI Programme and in May 2013 cancelled it at a cost to licence fee payers of £98.4 million. The BBC was far too complacent about the DMI's troubled history and the very high risks involved in taking it in-house.
The DMI was 18 months behind schedule when the BBC took it in-house from Siemens. The BBC did not obtain independent technical assurance for the system design or ensure that the intended users were sufficiently engaged with the Programme. Poor governance meant that these important weaknesses went unchallenged, even when things started to go badly wrong.
Projects like the DMI need to be led by an experienced senior responsible owner who has the skills, authority and determination to see the project through to successful implementation. The BBC needs to report using clear milestones that give the Executive and the Trust an unambiguous and accurate account of progress and any problems.
The BBC Executive should apply more rigorous and timely scrutiny to its major projects to limit potential losses, and the BBC Trust must be more proactive in chasing and challenging the BBC Executive's performance.
Find similar publications here: