Public Accounts Committee
Show me:
The Regional Growth Fund
HC 104, Fifth Report of Session 2012-13 - Report, Together with Formal Minutes, Oral and Written Evidence
Author:

House of Commons - Committee of Public Accounts

Publisher:

TSO (The Stationery Office)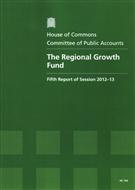 Add to Basket
'The Regional Growth Fund (HC 104)' examines the Government's Regional Growth Fund established in June 2010 to support projects with the potential to deliver economic growth and additional, sustainable private-sector jobs, particularly in areas that rely more on the public sector for employment.
The Permanent Secretary for the Department for Communities and Local Government (DCLG) has overall accountability and the Secretary of State for Business Innovation and Skills (BIS) has ministerial accountability; £1.4 billion was allocated during 2011 and a further £1 billion has been made available for future rounds, for which accountability is likely to be shared between the Accounting Officers of the DCLG and BIS.
The Committee was disappointed to discover that so few final approvals had been given and so few projects had actually started. Of the £470 million paid out so far by Government, £364 million has been parked with intermediary bodies via endowments, and a further £57 million has been paid to other intermediaries. Only £60 million has been spent on front-line projects, with only 5,200 jobs claimed as having been created or safeguarded against targets of 36,800 over the lifetime of these projects.
The Fund's threshold for acceptable value for money was far too low. And it is not clear whether the departments took sufficient account of local expertise in deciding which projects would most benefit particular areas.
Despite decades of experience in delivering similar programmes, BIS and DCLG still do not know what works best in fostering private sector growth. Witnesses had not prepared plans on how they will evaluate whether the Fund actually delivers the jobs and growth predicted.
Find similar publications here: