Public Accounts Committee
Show me:
Improving the Efficiency of Central Government Office Property
HC 288, Eleventh Report of Session 2012-13 - Report, Together with Formal Minutes, Oral and Written Evidence
Author:

House of Commons - Committee of Public Accounts

Publisher:

TSO (The Stationery Office)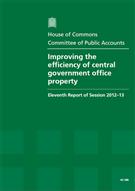 Add to Basket
'Improving the Efficiency of Central Government Office Property (HC 288)' reports that from 2004 to 2010 central government departments have made savings of around £100 million each year on the cost of offices, however, the government's use of space is still relatively inefficient.
Central government office estate comprises over five million m2 of space and costs around £1.8 billion a year to run. Rationalisation of the estate therefore offers the public sector the chance to secure significant efficiency savings.
The Government Property Unit was established in 2010 to accelerate efficiency savings from the estate but it has not provided the leadership necessary to deliver an effective cross-government approach. Until property is seen by departments as a cost as well as an asset, the vast potential savings will not be realised. The Unit needs to make it in the interests of departments to work together and to do so it needs the support of the Treasury which so far has been far too passive.
Three further areas where the Unit needs to show far greater leadership are also highlighted:
Firstly, the bulk of public sector estate belongs to local government and the Unit needs to ensure that central and local government work more collaboratively

Secondly, the Unit needs to centralise property ownership and start to negotiate terms with major landlords on a more standardised basis

Finally, consolidating the estate will inevitably lead to the mothballing of buildings and current market conditions are making it difficult to re-let surplus space. There is, though, no point in the Government simply holding property in the hope of a future rise in property prices.
Find similar publications here: