Public Accounts Committee
Show me:
Implementing the Transparency Agenda
HC 102, Tenth Report of Session 2012-13 - Report, Together with Formal Minutes, Oral and Written Evidence
Author:

House of Commons - Committee of Public Accounts

Publisher:

TSO (The Stationery Office)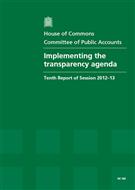 Add to Basket
Whilst progress towards the Government's objectives for transparency is recognised, the report 'Implementing the Transparency Agenda (HC 102)' identifies that there are areas where further work needs to be done.
It does not help Government to meet the objectives of the transparency agenda when large quantities of raw data is released without ensuring that it is fit for purpose. Some data is very difficult to interpret, and some is not being presented on a consistent basis.
Poor or incomplete data hinders the ability of users to exercise effective choice, and undermines the ability of service deliverers and policy makers to focus on improving quality.
The Government has not yet developed a full understanding of costs and benefits of making information transparent, and so decisions on what data to make available and in what form, are not yet guided by value for money considerations.
The Cabinet Office says the Open Data Institute will establish a fuller evidence base on the economic and public service benefits of open data. The push for release of more data has also thrown up new challenges which departments need to meet, facilitated by strong leadership from the Cabinet Office.
New challenges for consideration include:
how to sustain interest in data after its initial launch;

how to ensure sufficient disclosure of information by private firms delivering Government contracts;

how to maintain vigilance over the protection of personal privacy; and

how the benefits of data disclosure can be realised by those without internet access.
Find similar publications here: