Public Accounts Committee
Show me:
Preparations for the London 2012 Olympic and Paralympic Games
HC 526, Ninth report of Session 2012-13 - Report, Together with Formal Minutes, Oral and Written Evidence
Author:

House of Commons - Committee of Public Accounts

Publisher:

TSO (The Stationery Office)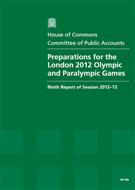 Add to Basket
The chaos which has emerged over the G4S Olympics security contract has undermined confidence in those responsible for managing the Games; 'Preparations for the London 2012 Olympic and Paralympic Games (HC 526)' reports that there is now a last minute scramble to make sure there will be enough security personnel on the ground.
In evidence given before Christmas, all those concerned gave assurances that the contract could be met despite more than doubling the number of guards. No credible explanation has been given for an astonishing twelve-fold increase in management costs, from £10 million to £125 million, and G4S still has not been able to deliver.
As British troops are being drafted in, the Committee calls upon the Home Office to gain control of the London Organising Committee of the Olympic and Paralympic Games (LOCOG) and G4S urgently. It is still not known just how many security guards will actually be delivered or whether G4S will face any penalty. The Committee will carry out a post-mortem in September.
There is also dissatisfaction with how the Department for Culture Media and Sport (DCMS) has engaged with the Committee. Legitimate monitoring of implementation has been an unnecessarily frustrating process, characterised by a resistance to giving clear and consistent information, and a readiness to depart from proper ways of conducting public business.
One of the key concerns is that the DCMS has no intention of producing a single auditable account for the Games, drawing together both the costs within the Public Sector Funding Package of £9.3 billion and those outside. The Committee recommend that such an analysis must be produced.
Find similar publications here: