Public Accounts Committee
Show me:
HM Revenue & Customs 2010-11 Accounts: Tax Disputes
HC 1531, Sixty-first Report of Session 2010-12: Report, Together with Formal Minutes, Oral and Written Evidence
Author:

House of Commons - Committee of Public Accounts

Publisher:

TSO (The Stationery Office)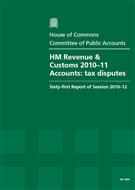 Add to Basket
'HM Revenue & Customs 2010-11 Accounts: Tax Disputes (HC 1531)' from the Commons Public Accounts Committee, reports on the evidence of tax disputes from the Cabinet Office and HM Revenue & Customs (HMRC).
At 31 March 2011 HMRC was seeking to resolve tax issues valued at over £25 billion with large companies, some of which included disputes over outstanding tax. In this report, the Committee expresses concern about how the Department handled some cases involving large settlements and that there needs to be proper separation between the negotiation of tax settlements and the authorisation of such settlements.
The Committee also states that HMRC made matters worse by trying to avoid scrutiny of these settlements, keeping confidential the details of specific settlements with large companies. This affects Parliament's ability to establish value for money, compounded further by imprecise, inconsistent and potentially misleading answers given by senior departmental officials, including the Permanent Secretary for Tax in particular and the evidence of his relationship with Goldman Sachs in facilitating a settlement with the company over their tax dispute.
HMRC governance processes in these matters were inconsistent and it has now appointed two new Commissioners with tax expertise, and plans to introduce a new assessor role to permit the independent review of large settlements before they are finalised.
The Committee further states that it saw little evidence of personal accountability within the Department, and that a perception has developed that large companies are treated more favourably, receiving preferential treatment compared to small businesses and individuals.
Find similar publications here: