Public Accounts Committee
Show me:
Providing the UK's Carrier Strike Capability
HC 1427, Fifty-sixth Report of Session 2010-12 - Report, Together with Formal Minutes, Oral and Written Evidence
Author:

House of Commons - Committee of Public Accounts

Publisher:

TSO (The Stationery Office)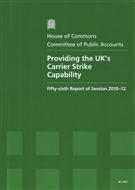 Add to Basket
The report from Committee of Public Accounts 'Providing the UK's Carrier Strike Capability (HC 1427)' looks at the 2010 Strategic Defence and Security Review (SDSR), when the Department had contracts for two carriers with an estimated cost of £5.24 billion and delivery dates of 2016 and 2018.
Decisions taken in the Review mean the UK will have no carrier aircraft capability from 2011-2020. While two carriers are still being built, only one will be converted to launch the planes that have now been selected, and the other will be mothballed.
The UK will only have one operational carrier with a significantly reduced availability at sea when Carrier Strike capability is reintroduced in 2020. That carrier is being built according to the old design and will have to be modified to make it compatible with the requirements of the new aircraft: the cost of these modifications will not be known until 2012.
The SDSR decision is forecast to save £3.4 billion, but only £600 million of this is cash savings while the remainder is simply deferring expenditure beyond the Department's ten year planning horizon. The decision will lead to nine years without Carrier Strike and full capability will not be achieved until 2030, with more work needed to get the best and most flexible operational use from the carrier.
The Committee has focussed on two key areas:
strategic decision-making; and

delivery of capabilities.
The Committee is disappointed that the systemic issues that have appeared in its other recent defence reports continue to arise.
Find similar publications here: