Procedure Committee
Show me:
Business in Westminster Hall
HC 23, First Report of Session 2014-15 - Report, Together with Formal Minutes Relating to the Report
Author:

House of Commons - Procedure Committee

Publisher:

TSO (The Stationery Office)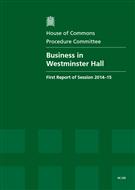 Add to Basket
The report 'Business in Westminster Hall (HC 23)' examines the proposed introduction of an hour-long debating slot in Westminster Hall (in place of one of the current half-hour slots) intended to provide a further timing option when applying for a debate, and enable the participation of a larger number of Members.
The Committee recommends that the Monday e-petition debates and Thursday Select Committee and Backbench Business sittings be swapped - to avoid the current clash of Backbench Business on a Thursday between the main chamber and Westminster Hall.
The report also recommends the end of the use of adjournment motions to be replaced with 'general debate' motions. This change, which mirrors the change already made for equivalent debates in the main chamber, is designed to aid public understanding of House procedures.
The Committee also proposes the following technical changes:
that the Chairman of Ways and Means have overall responsibility for all sittings in Westminster Hall;

that the Chair have the power to suspend a sitting and report disorderly conduct to the House; and

that unused provisions of the standing order governing business in Westminster Hall be repealed.