Procedure Committee
Show me:
Private Members' Bills
HC 188-I, Second Report of Session 2013-14 - Volume I: Report, Together with Formal Minutes
Author:

House of Commons - Procedure Committee

Publisher:

TSO (The Stationery Office)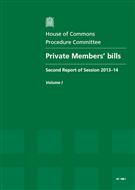 Add to Basket
The report 'Private Members' Bills (HC 188-I)' discusses the weight of evidence which demonstrates a clear desire across the House for change to be made to the private Member's bill procedures.
The ability of any Member to bring forward a legislative proposition for debate is the clearest indication that, so far as legislation is concerned, the House is not a mere machine introducing bills which are timetabled, amended and whipped through by the Executive. However, the fundamental problem with the private Member's bill procedures as they currently operate is that it is too easy for a small number of Members to prevent a bill from progressing without giving the House as a whole the chance to come to a decision on it.
Both the difficulty of achieving legislative change and the ease with which it can be resisted, undermines the effectiveness of kite-flying campaigns, and tilts the balance away from backbenchers towards the Government in the choice of bills brought forward.
This report considers the various purposes for which private Members' bills may be used, and looks in detail at the reasons for the problems which are inherent in private Member's bill procedures as they currently operate, putting forward options for reform.
The reform should have two objects:
to increase the transparency of the process; and

to ensure that the process is a genuine opportunity for debate, scrutiny and, if it is the will of the House, passage of a backbench legislative proposition.