Procedure Committee
Show me:
2010 Elections for Positions in the House
HC 1573, Fifth Report of Session 2010-12 - Report, Together with Formal Minutes, Oral and Written Evidence
Author:

House of Commons - Procedure Committee

Publisher:

TSO (The Stationery Office)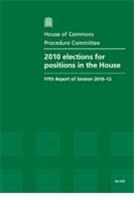 Add to Basket
The 2010 Parliament opened with a series of whole-House elections, to the posts of Speaker, Deputy Speaker, chairs of the major select committees and chair and members of the newly-formed Backbench Business Committee. There were also internal party elections for select committee posts. In '2010 Elections for Positions in the House (HC 1573)' the Procedure Committee examines these elections and concludes that the move to elect candidates to key posts has been right in principle and has also worked well in practice.
The Committee believes that a few improvements that could be made, including:
the names of those nominating the Speaker should be published;

the minimum number of sponsors required should be raised from 12 to 15;

candidates for Deputy Speaker should be allowed to make brief statements to the House;

provision should be made for the appointment of temporary Deputy Speakers before the election or when a deputy speaker is absent for a prolonged period; and

a place should be reserved for the minority parties on the Backbench Business Committee.
The forthcoming review of the Wright proposals should look favourably upon extending the principle of election to other select committees and statutory committees of the House.
The Committee examined the question of creating a Speaker's seat but decided against it. The Committee also endorses the proposals that the House should be given an opportunity to decide whether a contested question on whether to reappoint a returning Speaker should be decided by an open division or a secret ballot.