Procedure Committee
Show me:
Queen's and Prince of Wales's consent: fourth report of session 2014-15 report, together with formal minutes relating to the report
House of Commons papers 871 2014-15
Corporate Author:

Great Britain Parliament House of Commons Procedure Committee

Author:

Charles Walker (chairman)

Publisher:

TSO (The Stationery Office)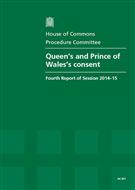 Add to Basket
The House of Lords has already approved proposals from its Procedure Committee for change. In this report the Committee considered the relevant proposals from the Political and Constitutional Reform Committee and made a number of recommendations to the House on the means and timing of signifying consent, and re-signification of consent for a bill carried over into a new session. Specifically, the Committee recommend that: the House should endorse the practice that consent need not be re-signified when a bill is carried over from one session to the next; the practice of consent being signified in person by a Privy Counsellor should be continued; consent, whenever a bill requires it, should always be signified on third reading; and the House should endorse the practice that the need for consent to be sought be noted on the order paper as soon as this requirement is known.