Procedure Committee
Show me:
Monitoring written Parliamentary questions: seventh report of session 2012-13 report, together with formal minutes and oral evidence
House of Commons papers 1095 2012-13
Corporate Author:

Great Britain Parliament House of Commons Procedure Committee

Author:

Charles Walker (chairman)

Publisher:

TSO (The Stationery Office)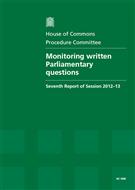 Add to Basket
In October 2010 the Committee in response to a report by its predecessor committee began a trial exercise in monitoring unsatisfactory and late answers to written Parliamentary questions. With just over 50 complaints from Members in response to the exercise of which half were followed up. This resulted in answers for Members on a number of occasions in circumstances where they would otherwise have found difficult or impossible to follow up on an inadequate response. The exercise will now come to an end and be put on a more permanent footing.In consideration of a memorandum from the Leader of the House providing statistics on the time taken to respond to WPQs in 2010-12, the committee has sought explanations from Ministers in charge of poorly performing departments for the level of performance in the memorandum and what steps are being taken to improve these levels. The Department for Education had a particularly poor performance and evidence was taken from the Parliamentary Under Secretary and a senior official in the Department which the Committee found unsatisfactory with and so a follow up session with the Permanent Secretary and Secretary of State was undertaken. The Committee will continue its interest in the answering performance of this Department and hold it to further account should its performance not improve markedly.