Office of The Deputy Prime Minister Committee
Show me:
Beyond decent homes: fourth report of session 2009-10: Vol. 1 Report, together with formal minutes
House of Commons papers 60-I 2009-10
Corporate Author:

Great Britain Parliament House of Commons Communities and Local Government Committee

Author:

Phyllis Starkey (chairman)

Publisher:

TSO (The Stationery Office)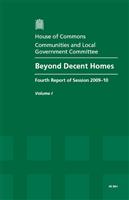 Add to Basket
The £40bn Decent Homes Programme has had a positive effect on the living conditions of most social housing tenants, this report finds, but the Government has failed to invest enough resources in the parallel programme to improve homes occupied by vulnerable people in the private sector. The Government must also clarify future funding: it is still unclear how the elimination of the remaining backlog of disrepair (around 3 per cent of social homes) will be funded; and how much will be available to maintain standards in the future. The Government must prevent another backlog of disrepair from building up after the current programme comes to an end in 2010. Carbon emissions reduction targets mean that the entire UK housing stock must be made more energy efficient. The decent homes standard has an important part to play and should be updated to enable this. The use of arm's-length management organisations (ALMOs) to manage council housing has led to improved standards and better planning, though not all councils were able to follow this model. The decent homes standard remains a low benchmark, however. The target for decency applied to private housing should be retained and strengthened by creating a National Indicator for private sector accommodation. A clear long term target should be set at a national level to bring all private sector homes (not just those occupied by vulnerable people) up to the decent homes standard.
Find similar publications here: