International Development Committee
Show me:
Syrian Refugee Crisis
HC 463, First Report of Session 2015-16 - Report, Together with Formal Minutes Relating to the Report
Author:

House of Commons - International Development Committee

Publisher:

TSO (The Stationery Office)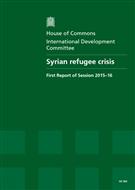 Add to Basket
The conflict in Syria which has given rise to perhaps the most severe humanitarian crisis since the Second World War. The report 'Syrian Refugee Crisis (HC 463)' examines the UK's response to this crisis.
Countries of the region were minor recipients of UK bilateral aid prior to the start of the conflict, yet the Government has responded impressively by contributing over £1.1 billion to the relief effort. There is, however, concern at the failure of other donors, particularly major European countries, to show similar commitment.
The Committee identifies that it is also important to direct a greater share of funding towards the most vulnerable refugees. There have been strong representations that Syrian refugees should be allowed to work in neighbouring countries and there is evidence that approaches which seek to provide sustainable solutions to protracted crises, are difficult to implement in the context of the current global humanitarian architecture.
It is recommended that the Government should use the World Humanitarian Summit in May 2016 to press for an approach to humanitarian crises that better coordinates short-term assistance, with longer term development objectives such as education, healthcare and livelihoods.
The Government's expansion of the Vulnerable Persons Relocation Scheme (VPRS) to resettle Syrian refugees is welcomed. However, the report highlights that present processes may fail to include some vulnerable groups such as refugees from the gay community, refugees with disabilities, and Christians and other religious minorities. The Committee therefore further recommends that the UK Government and the United Nations High Commissioner for Refugees (UNHCR) monitor resettlement referrals and take action if these minorities are insufficiently represented among the cases received.
Find similar publications here: