International Development Committee
Show me:
The Future Of UK Development Cooperation: Phase 2: Beyond Aid
HC 663, Tenth Report of Session 2014-15 - Report, Together with Formal Minutes Relating to the Report
Author:

House of Commons - International Development Committee

Publisher:

TSO (The Stationery Office)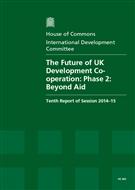 Add to Basket
According to the report 'The Future Of UK Development Cooperation: Phase 2: Beyond Aid (HC 633)' the number of low income countries is falling, but at the same time the importance of global issues such as conflict, climate, migration, trade, tax and infectious disease, is rising.
The Committee argues that aid remains vital for addressing poverty in poor countries to encourage economic development and provide global goals - such as tackling climate change and providing humanitarian assistance to combat diseases like Ebola; but new forms of co-operation have to be developed in order to meet these challenges.
New financial mechanisms will need to be implemented to facilitate links with UK institutions in a wide range of areas including health, education, culture, law, culture and science. This will require the Department for International Development (DFID) to put more emphasis on working with small organisations and less on programme management.
As the focus moves away from aid, policy coherence for development must be at the heart of a new approach. This will mean working across Government in the UK and with global partners in the multilateral system, to maximise the impact on development of all the UK's actions.
This change in approach will require DFID to develop different skills if it is to succeed.
Find similar publications here: