International Development Committee
Show me:
Responses To The Ebola Crisis
HC 876, Eighth Report of Session 2014-15 - Report, Together with Formal Minutes
Author:

House of Commons - International Development Committee

Publisher:

TSO (The Stationery Office)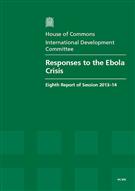 Add to Basket
The report 'Responses To The Ebola Crisis (HC 876)' examines the responses of the Government and World Health Organisation (WHO) to the Ebola outbreak that has stricken Sierra Leone, Liberia and Guinea since March 2014.
The outbreak has had a devastating effect on the region. By 2 December 2014, more than 17,500 cases and 6,000 deaths had been reported. Ebola has had wider damaging consequences for local economies, food security, institutional stability and the broader health system.
The Committee says thet the Department for International Development (DFID) and the WHO initially failed to recognise the scale and severity of the Ebola crisis and were too slow to respond. This is in part due the WHO's member states, who have cut its funding and failed to emphasise building sustainable health systems in developing countries, leaving the global health system dangerously inadequate for responding to health emergencies.
The report recommends that DFID press for a review of the international approach to health emergencies, incorporating the function, structure and funding of the World Health Organisation and the role and expectations of major donors.
Find similar publications here: