International Development Committee
Show me:
Strengthening Health Systems In Developing Countries
HC 246, Fifth Report of Session 2014-15 - Report, Together with Formal Minutes
Author:

House of Commons - International Development Committee

Publisher:

TSO (The Stationery Office)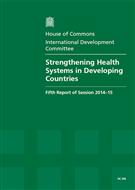 Add to Basket
Better health is a basic human right and an end in itself. A healthy population is also essential to development. The report 'Strengthening Health Systems In Developing Countries (HC 246)' examines the Department for International Aid's (DFID) performance in strengthening health systems in the developing world.
Recent years have seen some rapid improvements in health partly driven by the Millennium Development Goals and the large international funds set up to accelerate progress towards them. However, these improvements have at times been achieved despite the poor state of health systems in many developing countries. Stronger health systems will be required to ensure efficiency, tackle growing challenges such as non-communicable diseases and progress towards self-sufficiency.
DFID has long had a good reputation for health system strengthening and this is reflected in its own work. But DFID now relies on international partners, which do not all share this reputation, in an increasing number of countries and to manage an ever greater proportion of its expenditure.
The Committee recommends that DFID reviews in each country whether its funding arrangements enable its health systems strengthening objectives to be met. Assessing the effectiveness and value for money of health system strengthening work by DFID and its international partners is more difficult than it ought to be. Expenditure and performance figures are not published and the research base is inadequate. This must change.
The UK has one of the best health systems in the world, but DFID makes only limited use of it. The Committee calls on DFID to work with the NHS in expanding volunteering schemes for doctors and nurses and making more use of NHS finance and management skills.
Find similar publications here: