International Development Committee
Show me:
The Independent Commission For Aid Impact's Performance And Annual Report 2013-14
HC 523, Fourth Report of Session 2014-15 - Report, Together with Formal Minutes
Author:

House of Commons - International Development Committee

Publisher:

TSO (The Stationery Office)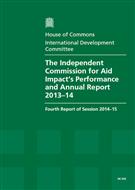 Add to Basket
The Independent Commission on Aid Impact (ICAI) is an independent commission which reports to the House of Commons International Development Committee, not to the Department for International Development (DFID); 'The Independent Commission For Aid Impact's Performance And Annual Report 2013-14 (HC 523)' assess the Commission's findings and efficiency for the period 2013-14.
The Committee ensures its accountability to Parliament in two main ways:
through a sub-Committee, which takes evidence on the reports published by ICAI; and

through an inquiry each year carried out by the full Committee into ICAI's Annual Report.
2013-14 has been a busy year for ICAI, with 12 reports published on a wide range of DFID's activities.
ICAI's Annual Report contained three headline findings for DFID this year.
Firstly - tighter management of multilateral partners is needed.
Secondly - DFID needs to continue to improve its aid programme management capacity, especially where contractors are implementing programmes.
Thirdly - DFID's corporate results agenda (and in particular its use of 'reach indicators') is distorting programming choices.
The Committee shares ICAI's concerns on these issues and intend to follow up its recommendations in two forthcoming inquiries this autumn: Beyond Aid; and DFID's Departmental Annual Report 2013-14.
DFID spends at least £200 million on self-evaluation, however it cannot provide an exact total. The Committee question this large expenditure, especially given that an ICAI evaluation recently found that DFID staff struggle to use self-evaluation material in their work. The contracts of the current ICAI commissioners, contractor consortium and staff all end in May 2015. While staff contracts may be renewed, new commissioners and contractors must be recruited.
Planning is underway for the transition to the next phase of ICAI, and all possible efforts must be made to ensure this goes as smoothly as possible.
Find similar publications here: