Home Affairs Committee
Show me:
Leadership And Standards In The Police
HC 67-I, Third Report of Session 2013-14 - Volume I: Report, Together with Formal Minutes
Author:

House of Commons - Home Affairs Committee

Publisher:

TSO (The Stationery Office)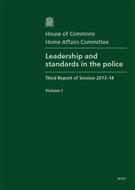 Add to Basket
The report 'Leadership And Standards In The Police (HC 67-I)' concludes that broken systems of accountability and a patchwork of police standards and training have allowed a minority of police officers to get away with corruption and incompetence, which is blighting an otherwise excellent service with dedicated officers.
The recent allegations of police spying on the Lawrence family and the bugging of Duwayne Brooks, and other activities of undercover officers have shocked the public. The new landscape of policing requires a new type of police officer ready to meet the new challenges. Honesty, integrity and transparency are essential components of the policing DNA.
The Committee recommends new standards for new police recruits, including:
Every police recruit must be required to achieve a standard Certificate of Knowledge in Policing.

The oath of policing should be equivalent to the Hippocratic Oath in which the public has unshakable confidence in the probity of its officers.

The College of Policing must develop a Code of Ethics and HMIC needs to hold registers on interests, both of Chief Constables and Police and Crime Commissioners.

All details of misconduct must be published on forces' websites.
There are currently at least eight exceptional investigations underway as a result of police failings and integrity issues which so far have cost the taxpayer over £23million pounds, with nearly 300 officers yet have resulted in only five convictions.
The police should not be investigating the police. HM Inspectorate of Constabulary and the Independent Police Complaints Commission need to lead these investigations. It is 14 years since the MacPherson inquiry and it is shameful that there is not a single Black and Minority Ethnic Chief Constable today.
Find similar publications here: