Home Affairs Committee
Show me:
Forced Marriage
HC 880, Eighth Report of Session 2010-12 - Report, Together with Formal Minutes, Oral and Written Evidence
Author:

House of Commons - Home Affairs Committee

Publisher:

TSO (The Stationery Office)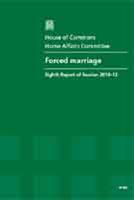 Add to Basket
'Forced Marriage (HC 880)' explains that the Home Affairs Committee considers the relatively high take-up of Forced Marriage Protection Orders - 293 issued between November 2008 and February 2011 - to be indicative of the relative success of the 'Forced Marriage (Civil Protection) Act'. However, the Committee is disappointed at a lack of agency follow-up to ensure compliance.
In the rare instances where breaches are discovered, the Committee believes not enough action is taken, with only one individual jailed. It recommends that the Government, while maintaining this civil route, should also criminalise forced marriage, as the Prime Minister promised to consider while in opposition. This would send a stronger message that forced marriage will not be tolerated.
Our predecessors found that many school authorities were reluctant to take action to protect their pupils against forced marriage, in part because they feared accusations of racism. Evidence suggests this situation has not changed and the Secretary of State must take a more pro-active approach to remind schools of their statutory responsibilities and make use of the inspection regime to improve performance.
The Committee has repeatedly raised the plight of estranged or abused partners who are under pressure from their families to sign a request for their spouses to have indefinite leave to remain in the UK, or who simply want to be kept informed of the progress of their spouse's application, but are refused this information by the UK Border Agency because of data protection.
During its inquiry, the Information Commissioner confirmed that there are situations in which data protection considerations can legitimately be overridden and the Committee therefore urges the UK Border Agency to encourage staff to use their discretion in these kinds of cases.
Find similar publications here: