Home Affairs Committee
Show me:
The Work of the Independent Police Complaints Commission
HC 366, Eleventh Report of Session 2009-10 - Report, Together with Formal Minutes, Oral and Written Evidence
Author:

House of Commons - Home Affairs Committee

Publisher:

TSO (The Stationery Office)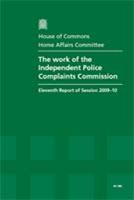 Add to Basket
Despite an ever-increasing workload the Independent Police Complaints Commission (IPCC) does little to prevent complaints against police behaviour in the first instance by improving forces' complaints procedures and despite a budget of £35 million per annum the organisation lacks clear measures of success.
Key findings:
Despite the IPCC possessing staff of around 400 people, the vast majority of complaints against police behaviour are investigated by the force concerned.

Of the 30,000 plus complaints against police behaviour last year less than 250 were directly managed by the IPCC, which represents less than 10% of 'serious' complaints.

In 99 cases out of 100 and despite the existence of an independent statutory body, complaints made against police behaviour will be investigated by the police.

The Committee also raised concerns at the use of ex-police officers within the IPCC. These officers can often end up investigating possible ex-colleagues in their former force.
The Home Affairs Committee is convinced that the police should be placing a much greater onus on resolving complaints in an open, transparent and satisfactory manner themselves and calls upon the IPCC to produce a detailed plan of how the Commission, working with bodies such as Her Majesty's Inspectorate of Constabulary (HMIC) and National Policing Improvement Agency (NPIA), will improve police performance in this area.
Find similar publications here: