Home Affairs Committee
Show me:
Immigration: Skill Shortages
HC 429, Fifth Report of Session 2015-16 - Report, Together with Formal Minutes Relating to the Report
Author:

House of Commons - Home Affairs Committee

Publisher:

TSO (The Stationery Office)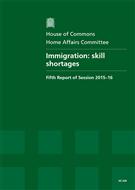 Add to Basket
The report 'Immigration: Skill Shortages (HC 429)' examines the Government's two numerical immigration limits: the first being the overall ambition to reduce immigration to the tens of thousands, which serves to focus attention on controlling those aspects of immigration that could contribute to reducing the overall number; the second is the cap on Tier 2 (General) visas - for high skilled workers to come and work in the UK if they have a definite offer of a job.
The aim of the Tier 2 cap is aimed to help deliver the Government's objective of reducing net migration to the 'tens of thousands', despite the significant disparity between the net migration figure, currently 336,000 a year, and the relatively small number of 20,700 possible Tier 2 (General) visas.
The Committee identifies that the Government can only control three routes of migration, one of which is the non-European Economic Areas (EEAs) inflow for work; however, the number of people coming to the UK to take up work has not reduced and the number of people seeking to come to take up a high skilled job in the UK has increased.
While the cap may serve a purpose in discouraging recruitment from non-EU countries, it has had a displacement effect in stimulating recruitment from EU countries. If the increase in EU migration compensates for any decrease in non-EU migration, then this will not help the Government reach their target of reducing net migration to the tens of thousands.
The report concludes that the Tier 2 cap of 20,700 appears to play a very limited role in Government's attempts to restrict net migration. There are no immediate consequences if the Government fails to reach its overall target to reduce migration to the tens of thousands, but there are real consequences if the cap on Tier 2 visas is reached, as was discovered in June 2015.
Find similar publications here: