Home Affairs Committee
Show me:
The work of the Immigration Directorates (Q2 2015): second report of session 2015-16 report, together with formal minutes relating to the report
House of Commons papers 512 2015-16
Corporate Author:

Great Britain Parliament House of Commons Home Affairs Committee

Author:

Keith Vaz (chair)

Publisher:

TSO (The Stationery Office)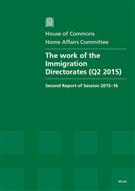 Add to Basket
In the past, the Home Affairs Committee has assessed the Home Office's performance on a quarterly basis against a number of indicators covering aspects of its work. This report covers three quarters: Q4 2014, Q1 2015 and Q2 2015. The data for the first two quarters were published during or just after the 2015 General Election period. Q2 2015 data was published on 27 August 2015. The report is divided into two sections, reflecting how the work is divided in the Home Office.
Find similar publications here: